In our weekly Library Card Series we highlight a selection from our resource library to help introduce the content to our industry partners.
In this week's Library Card Series post we will be reviewing DHS's If You See Something, Say Something campaign. As we are going about our everyday day routine, if you see something that doesn't seem quite right, say something. By being alert and reporting suspicious activity to your local law enforcement, you can protect your family, neighbors, and community. To find the state-specific number where you can report suspicious activity, please reference this interactive map.
When reporting suspicious activity, remember the 5W's:
WHO– did you see?
WHAT– did you see?
WHEN– did you see it?
WHERE– did it occur?
WHY– is it suspicious?
While the legal cannabis industry may not necessarily be a top target for terrorist organizations, history has shown that threat actors will take advantage of perceived soft targets. Retail establishments, or cannabis-related conventions and events could easily fall into that category. As such, it is important for staff to be mindful of suspicious activity and understand how to respond to those situations. Below is an infographic which can help identify the signs of terrorism-related suspicious activity. You can also download a pocket guide here.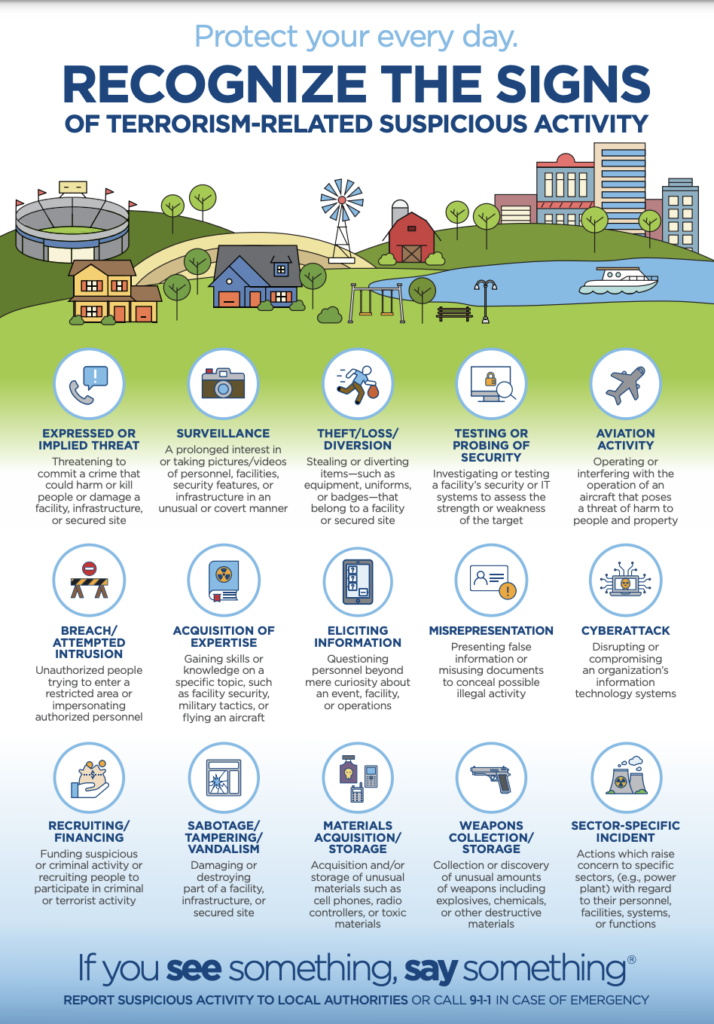 To find more valuable resources covering a wide variety of topics, visit the resource section of our website, and check back to our blog every Tuesday for our Library Card Series where we highlight different resources from the library.